In case you haven't noticed, almost everyone is trying to get their hands on a table with adjustable height. But you can't blame them, of course. Early research revealed the benefits of height adjustable tables for productivity and health. This is especially the case for versions that allow users to shift between sitting and standing.
For some reason, however, there don't seem to be any clear guidelines and instructions on how to use these adjustable tables correctly. To ensure that you will make the most out of these tables and reduce their negative effects, here are some tips on how to properly use your adjustable height table.
Make Adjustments to Your Screen and Table 
The correct position of your computer screen combined with the proper height of your table is critical to improve your comfort and minimize the risk of injuries in the workplace.
To get started, your standing desk should be set at approximately elbow height. It means that your elbows must be positioned 90 degrees from the floor. As a simple guide, an average person with a height of 180cm or 5'11" should set their table at a height of 111 cm or 44 inches.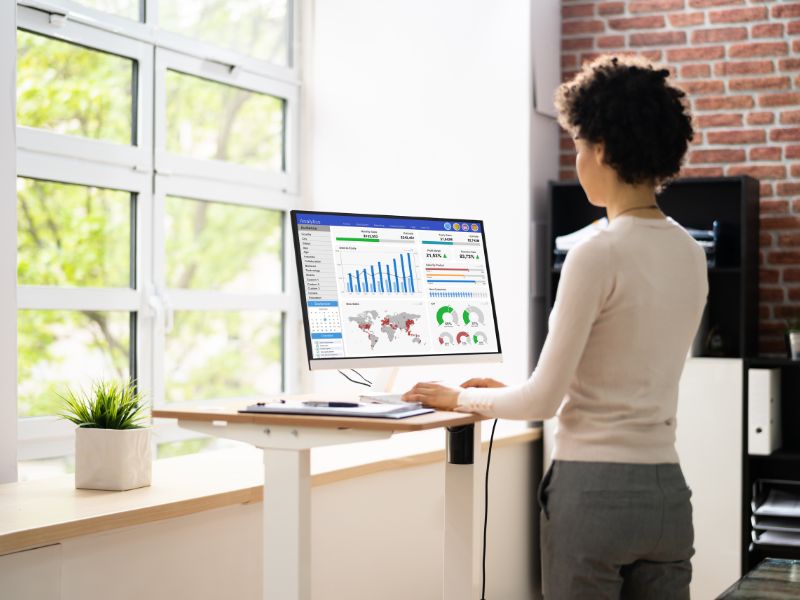 On the other hand, there are no definite recommendations when it comes to screen position. However, the general rule of thumb is that it should be located 51 to 71 cm or 20 to 28 inches from your face. To serve as your guide, the distance shouldn't be anything less than from the tip of the middle finger to the elbow.
The upper part of the screen must be set at eye level with just a little upward tilt of around 10 to 20 degrees. The main idea here is that your neck shouldn't tilt down or up.
Meanwhile, the keyboard should be aligned with your elbow height if you're using a laptop. But this might give you no choice but to tilt back your screen while your neck is tilted downwards. Sadly, this position is not recommended for long-term use.
The main point here is that both your screen and table should be adjusted according to your height. A table with adjustable height and your elbows should be aligned while the upper part of your screen must be set at eye level. 
Shift between Standing and Sitting
It's not a secret that spending long hours sitting down doesn't do any good for your health. But it doesn't necessarily mean that you should be on your feet all day long, either.
Research shows strong connections between cases of lower back pains and occupations that require people to stand, such as production line employees and bank tellers. 
Standing still for a long time is also believed to have a negative effect on your tendons, leg muscles, and other connective tissue. It may even result in the formation of varicose veins.
The good news is that you can avoid all of these consequences if you try to switch between standing and sitting. While studies are still in their early days, it seems that a ratio of 2:1 or 1:1 sitting versus standing time is optimal for energy and comfort levels without compromising productivity.
The ratio means that for every 1 to hours you spend sitting while working, one hour must be spent standing. You can try to shift between standing and sitting every half hour to an hour.
Change the Position of Your Mouse and Keyboard
Your wrists will feel the strain of working long hours in front of your computer. This is why you must optimize the position of your wrist both when standing and sitting. The recommended angle if you're standing is a bit more extended or tilted upwards compared to when you are sitting. 
It has been revealed that failure to consider the difference in the people who often switch between standing and sitting may result in great wrist discomfort and pain.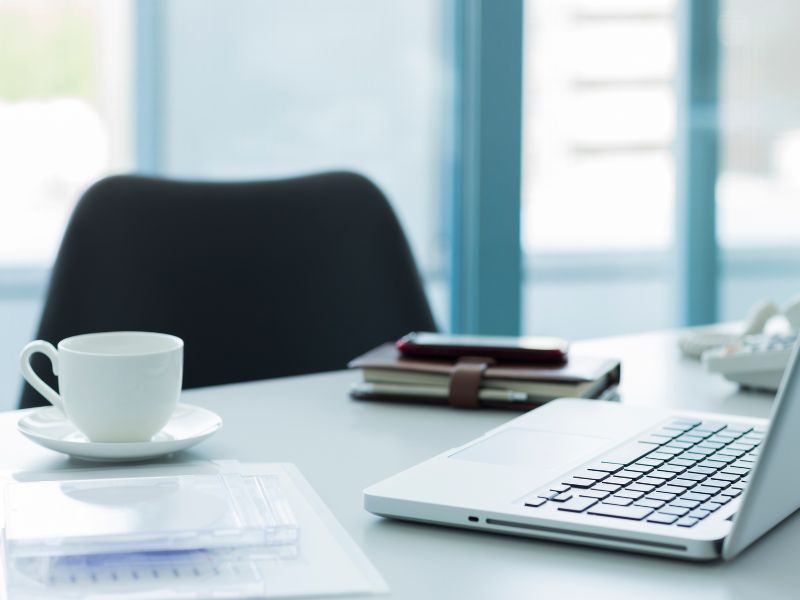 To keep your wrists protected while standing, see to it that your mouse and keyboard are always at the same level while your wrists should remain straight while typing.
If you're still suffering from occasional sore wrists, you might want to use gel mouse pads and an adjustable keyboard stand for the best possible support.
Buy and Use an Anti-Fatigue Mat with Your Table with Adjustable Height
It's common to see anti-fatigue mats being used in jobs where people are required to stand for extended periods, such as working at a counter or on a product line.
Reports are claiming that these mats can ward off fatigue by promoting subtle movements of leg muscles. It can then boost the blood flow and reduce discomfort in general.
Research also revealed that people who spend two or more hours standing per day tend to experience less tiredness and discomfort every time they use anti-fatigue mats. These mats also help with lower back pain and leg problems. These anti-fatigue mats can come in handy if you suffer from lower back or leg pain because of standing.
Take Advantage of Arm Supports
Arm supports are surface areas or soft padding that you can attach to your desk. These are designed to lower the pressure on your wrist while you're using your mouse.
This aspect has been well-researched through the years, with various studies revealing that arm supports can substantially lower the risk of suffering from shoulder and neck issues. These arm supports are worth considering if you usually experience issues, specifically on the part of your dominant hand.
The Bottom Line 
Getting a table with adjustable height is just the first step in making sure that you will reap all its benefits. While these tables are amazing for their remarkable function and purpose, the best way to make the most out of them is to ensure that you know how to use them properly.
With the help of the tips stated above, from adjusting your screen and table to using arm supports, will assure you that you can use your height-adjustable table to the fullest.
Posts from the same category: